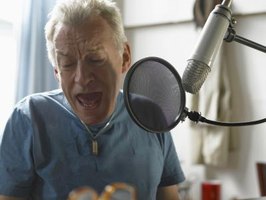 So, if you have got yourself a good, cheap voice over microphone that you're ready to put to use, it is time to get that home voice acting studio all setup. I think that for a lot of voice over actors out there, the most important thing is the budget for this sort of project.
With that in mind, let's focus on affordable home voice acting studio setup.
Finding the perfect space is simple.
I know that a lot of people stress about locating that perfect spot in their home where they get amazing acoustics and minimal background noise. Some even plan on dedicating an entire room to the project. Guess what – you don't need a whole room for this. In fact, just a simple closet will be perfect.
If you try to use a spare room, you might have to deal with issues like reverb or outside noise coming through the windows and then you'll gave to spend extra money (and time) soundproofing it. No one wants to do that, so just pick a closet for your voice over recordings.
Get the necessary gear.
We've already touched on the microphone, but there are a few other things that you'll need for your new closet voice over studio. You will probably need a mic stand, a mic pop filter, a computer with recording software, some goof studio headphones and any necessary cables for all this gear. This is what it takes for a bare bones voice over home recording studio. You may already own some of these things.
Start with cheaper stuff.
There is no reason to go out and buy expensive equipment or to even buy something that you can get for free or that you already own and can make do with. Once you are earning money as a voice actor, then you can upgrade your gear as needed.
A good example of how you can do this is that most people already own a computer, and most any computer will do when it comes to recording your voice. Another good example is the recording software that you will need. Instead of plunking down the cash for Adobe Audition or a similar program, just download the free Audacity software and work with it for a while. Some VO actors even continue using it once they are successful since it does exactly what you need.
By following these simple tips, you can get yourself an affordable home voice over studio setup so that you can start working as VO actor out of your own house.